5 Honest Straight Forward Food Steamer Product Reviews
Looking to get more from your food, faster, and save more? You have come to the right place. Using a food steamer is the answer. It is easy to use, saves time and money, cooks all types of food, and above all, is the healthiest cooking method. There is nothing as nutritious as food cooked in a steamer.
If you are a health enthusiast, steaming food packs offer a whole lot of health benefits for you. From retaining the nutrients to eliminating the use of oil in cooking, it cannot be better. According to health professionals, one of the best ways to curb cardiovascular ailments is steaming food, as it eliminates the need to add extra oil.
However, to reap the most out of steaming machines, you have to choose the perfect fit for both your kitchen and health needs. Luckily, we've got you covered. Here is a detailed review of food steamers that you need to try out in 2019 and beyond.
Product Reviews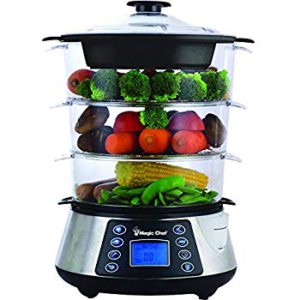 Product: Magic Chef MCSFS12st. Food Steamer
<=Click Here=>, To See The Latest prices
Cheapest Place to Buy: Amazon.com
Guarantee: 3 Year Full Warranty
My Rating: 8.5 out of 10 Stars
1. Magic chef MCSFS12st, 3tier food steamer, seura food steamer, 9.4'×15.4'×16.1′, stainless-steel
 Featuring a 3-tier system, this unit allows you to prepare three courses of your meal simultaneously. It is dishwasher-safe and has a 7 setting, easy touch LCD display.
Want to know more about this steamer? Here are the additional features
Top Features
– Auto shut off
– A stainless steel exterior
– Dimensions: 9.4× 15.4×16.1
– Weight: 6.25 pounds
So what are the merits and demerits of this unit? Well, read on and find out more
Pros
– Three-tier system
– Easy to use
– Quite affordable
Cons
– It cannot serve a large family.
Bottom line: Here is our honest opinion….
In case you are looking for a more elegant but sophisticated steamer, then the Magic chef MCSFS12st is the perfect match for you. The unit is dishwasher safe, and has multiple settings, making it easy to operate, based on your cooking needs.
Product information
| | |
| --- | --- |
| Steamer Dimensions | 9.4 x 15.4 x 16.1 inches |
| Steamer Weight | 5.3 pounds |
| Total Shipping Weight | 6.25 pounds |
| Manufacturer | Magic Chef |
| Steamer ASIN | B005URZO1I |
| California residents | Research for Proposition 65 warning on Drinking Water |
| Steamer model number | MCSFS12ST |
Product: AICOK Food Steamer
<=Click Here=>, To See The Latest prices
Cheapest Place to Buy: Amazon.com
Guarantee: 2 Year Full Warranty
My Rating: 8.0 out of 10 Stars
2. AICOK food steamer 9.5Quart VegetableSteamer 800W fast-heating electric steamer including three-tier stackable baskets with a rice bowl, stainless-steel
The AICOK steamer packs 3tier stackable baskets that give you the freedom to cook more food.
Moreover, it comes with an auto shut off timer and a bell that notifies you when the food is ready. Brandishing a robust 800W steam power, you can be sure that your cooking will be faster and even.
That's not all…Here are additional features:
– BPA-FREE healthy steamer plastic
– 2-year warranty
– 3 easy to use, stackable, and dishwasher safe baskets
– Dimensions: 10.2× 8.3×16.9
– Weighs 5 pounds
Pros
– Simple to use
– Preserves taste
– Quick and safe
Cons
– Reported cases of timer getting stuck
| | |
| --- | --- |
| Steamer Dimensions | 8.3 x 16.9 x 10.2 inches |
| Steamer Weight | 5.2 pounds |
| TotalShipping Weight | 5.15 pounds |
| Steamer Manufacturer | AICOK |
| Product ASIN | B0746NFCR9 |
| Steamer model number | 136707 |
Conclusion
For someone that needs speed and reliability, then AICOK is the perfect match for you. In essence, it is quick and efficient and comes with a wide range of features that will make your cooking experience memorable.
Product: Hamilton Beach Digital Food Steamer
<=Click Here=>, To See The Latest Prices
Cheapest Place to Buy: Amazon.com
Guarantee: 2 Year Full Warranty
My Rating: 8.0 out of 10 Stars
3. Hamilton Beach digital food steamer- 5.5 quarts (37530A)
With its attractive price tag, the Hamilton beach digital food steamer is a favorite to many.
It features a 5.5-quart capacity, and a two-tier steamer basket system making it ideal for a small family.
Other features include:
– a digital touchpad that eases timer setting
– Hand-washed food containers
– Removable center divider to expand capacity
– Weight: 5.2 pounds
– Dimensions: 7.3′ × 13.7′ ×12.6′
Pros
– Relatively cheap
– Easy to use
Cons
– Small capacity compared to other units
Conclusion
If you have a limited budget, then the Hamilton Beach digital food steamer is the best bet for you. It offers all the services you will get from a typical steamer, at a fraction of the cost. Sounds good, right?
| | |
| --- | --- |
| Steamer Dimensions | 7.3 x 13.7 x 12.6 inches |
| Total Weight | 3.97 pounds |
| Steamer Shipping Weight | 5.2 pounds |
| ItemManufacturer | Hamilton Beach |
| Item ASIN | B00MA34AB0 |
| Steamer model number | 37530A |
Product: Cuisinart STM1000 Digital Glass Steamer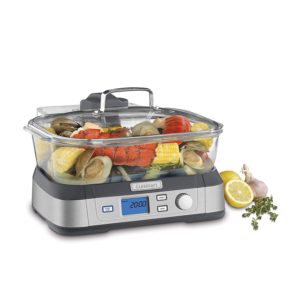 <=Click Here=>, To See The Latest Prices
Cheapest Place to Buy: Amazon.com
Guarantee: 2 Year Full Warranty
My Rating: 7.8 out of 10 Stars
4. Cuisinart STM1000 digital glass steamer, stainless steel
The Cuisinart STM1000 digital glass steamer features a formidable steam system that delivers steam from the top down. This specification ensures that the food cooks faster and evenly. Besides, its glass and stainless steel components ensure that no chemicals are leached into the food. What's more, is that the taste of the food is well preserved. Its 5-liter glass pot gives it the ideal capacity for serving a big family.
Additional features include:
– An LCD control panel
– Pre Programmed settings
– Dimensions: 13.7' × 13.2' ×9.4'
– Weight: 20 pounds
Pros
– It has a relatively large capacity
– Made of glass and stainless steel only
Cons
– Relatively expensive
– It's quite delicate
– BulkyConclusion
| | |
| --- | --- |
| Steamer Dimensions | 13.7 x 13.2 x 9.4 inches |
| Steamer Weight | 15.75 pounds |
| Shipping Weight | 20.1 pounds |
| Item Manufacturer | Cuisinart |
| Item ASIN | B01CU0949U |
| Product model number | STM-1000 |
This is one of the perfect steamers for large families. Its huge capacity towers above most of the units in its class. In addition, the pre-programmed food settings and an LCD control panel makes it easy to use for both amateurs and experienced cooks.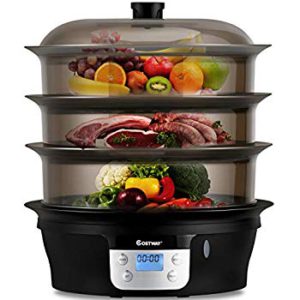 Product: Costway Food and Vegetable Steamer 
<=Click Here=>, To See The Latest Prices
Cheapest Place to Buy: Amazon.com
Guarantee: 2 Year Full Warranty
My Rating: 8.1 out of 10 Stars
5. Costway food and vegetable steamer 3tier stackable baskets 20-quart capacity1000W fast heat-up timing, automatic shutoff, appointment electric pot cooker w/food tray
The first thing that will catch your attention is it's simple, yet elegant design. In addition, the unit has excellent functionality, which makes it unique among its peers.
With a translucent PP material, you can easily monitor the state of your food when the lid is closed. Moreover, Its 20-quart capacity can hold up enough food for the entire family. To crown it all, it sports a one-stop control panel that is easy to use and highly efficient.
Still not convinced? here are the top features:
– It has an excellent thermal insulation system
– Automatic Timer
– Advanced appointment feature
– Automatic shut-off on every cycle completion
– It also comes with a 1000W working steam power that speeds up your cooking.
Pros
– Thermal insulation
– It has a large capacity
 -Comes with a cooking manual
Cons
-Has a relatively complex control panel
Conclusion
Here is the point….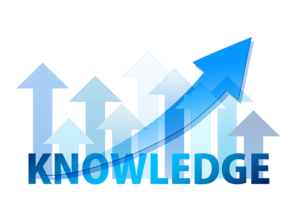 How to use a food steamerYou may ask, what's the basic working principle of a food steamer? The answer is easy: you simply boil water and let the steam do the cooking!
However, as much as it sounds simple, one must know that it requires patience to achieve desired results. The art of using it gets better with each experience. At first, you may mess up some dishes – but that is just part of the learning experience. So how best can you use it?
1. Prepare your food prior to steaming – for you to have delicious meals, you may consider doing a little preparation prior. For vegetables, fish, or chicken, you might consider adding some herbs, onions, garlic or spices. If you are having meat, it is advisable to marinate it for a short time.
2. Add just enough water – ensure that the water you put is not in excess so that you don't ruin your meal. At the same time, too little water may evaporate faster, causing the pan to ban.
To achieve the perfect balance, add water to the one to two-inch mark on the pot. You can add more gradually to suit your needs. Another approach is to ensure that the water level does not cover the steamer basket once it is inserted.
3. First boil water- while it is tempting to simply throw in food at once, it is advisable to boil the water fast. In essence, the results are much better, and the food cooks faster. As soon as the water boils, you can now add your food and let it steam. If you are adventurous, you can vary the steaming temperatures and compare results
4. Make sure the seal is airtight, for the food to be properly cooked. Moreover, ensure that the lid is well fitted. Any loose fit gives a leeway for steam to escape, hence hampering proper cooking.
5. Don't over-steam – to maintain the crispiness and preserve the taste of food, it is advisable not to steam for a long time. Some of the steamers have timers, and you should take advantage of that. What if you find yourself in a situation where the vegetables are ready but you are not? Do not turn off the heat and leave them in the steamer. Instead, dip them in ice water – it will keep them crisp and savory.
Maintenance and cleaning tips
To keep your steamer running at its best, you have to clean it. Also, regular maintenance will go a long way in preserving its life for long-term service. Be sure to try out these tips:
1. Empty the steamer after use: If you are using an electric steamer, unplug it and let it cool. Next, remove any remaining pieces of food and drain off the water that may still be in the reservoir or drip tray.
2. Soak the steamer in a sink full of warm soapy water for a few minutes to loosen out stuck food pieces.
3. If your steamer is dishwasher safe, you can clean it in a dishwasher. However, if it is not or you do not have one, a dishcloth is enough to clean up the residue. Abrasive detergents should not be used on the reservoir.
After doing the washing, dry the steamer by wiping it with a dishcloth and then leave it to air dry.
4. If you are using hard water, some lime scales are likely to stick inside your steamer. With a gradual build-up, these can pose a problem to the functionality of the device. Constant maintenance to remove them is paramount. Vinegar is a good chemical for this job. Place some little water into the steamer and add vinegar. Boil this mixture for a few minutes and wash it out.
Things to consider when buying a food steamer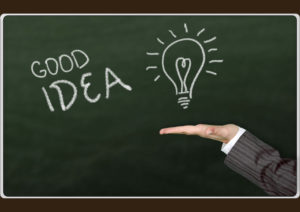 Knowing what to look for in a steamer is critical to get one that meets your needs. First, you need to understand that there are different brands in the market, each with its own unique features that make it stand out in the market. So what is your must-have checklist?
1. Food type
You must be keen on what foods you would like to cook in your steamer. Whether it is vegetables, beef, fish or chicken, there are plenty of brands to choose from. If you want a general-purpose steamer do not despair. Just inform your vendor.
2. Materials
Bamboo and silicone steamers are the best for non-stick cookware. Electric steamers, on the other hand, use plastic inserts. If you have a microwave and would like to buy it a steamer, check out the specific steamer. Microwaves have a special type of steamer designed for them. However, for commonplace use, bamboo and stainless steel still rank the best. They are most likely to fit inside a pot.
3. Storage space
The amount of space available is a huge determinant of the type of steamer that you can buy. For instance, if you have ample space in the kitchen, you can acquire a free-standing steamer on your countertop. Got a small kitchen with little space to spare? There are collapsible steamer baskets that will still serve you quite well.
FAQ's
Here are some of the commonly asked questions:
1. Where can I get spare replacement parts for my steamer?
 Steamer parts can be found in the service centers of your brand
2. Can I cook more than one food in my steamer?
 Yes and no. If your steamer comes with more than one steaming basket, then it is possible to prepare different meals at once. It is recommended that you put the food that takes longer to cook in the lower compartment.
Conclusion:
Here is our best pick……

Choosing between these sets of brands is quite difficult, as they all feature excellent components and deliver exceptional results. However, one unit that stuck up against all its competitors is the Costway food steamer. It hosts a 3-tier system, a large capacity, a powerful steam system, an automatic shut off timer. With this powerful steamer, you do not have to be a professional cook to prepare tasty meals. In essence, you can prepare your meals with relative ease, while retaining all the essential nutrients.
So what are you waiting for? Buy it today! <=Click Here Now=>, for more Home Page offers.
This product review, I must confess has been an amazing growth experience, as it leads me deeper into my knowledge for yours and my better health for today, to articulate for the benefit of each and every one of our ever so thirsty for the relative content guests to move forward with the confidence to make the wisest decisions and enhance their motivation as well, for their best healthy rewards that they are so diligently seeking.
Please always feel free to leave your very valuable and heartfelt comments below, for everyone's benefit, and growth experiences.
One of the many goals of this health Blog is to return all questions within a reasonable timeframe, if this does not occur, I am sure we are reviewing more relevant content for the most suitable answers. I hope to hear from you soon, sincerely, Jack Butler, founder of betterhealthfortoday.com
<=Click Here Now=>, for more relevant knowledge, for your wisest decisions.
(Click Here), For More Home Page Offers